Posted by annastan on January 14th, 2011. Filed under:
Craft
,
WIP
,
Writing Rants
.
Everything was going great with my new WIP, until…I came across this eye-opening post on YA cliches. Number 10 on the list (protagonist argues with only friend and winds up alone) is definitely in my WIP. Doh!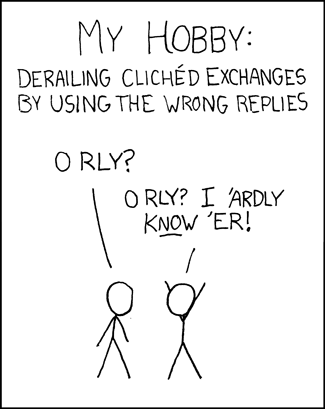 I started to panic. Had I really written something so cliched and not even realized it? For years I've been taught that cliches are bad: death to all cliches! I started thinking of ways to change it, to make the friendship go in a different direction, but none of it felt right.
Finally, I consulted with my husband who's the only person to read the story thus far. "Don't worry about it," he told me. "There is nothing else cliched in your story. Maybe that one can stay." (This is why I keep him around; he's always so level-headed.)
When I thought about it, I realized that he might be right. Okay, so maybe an element in my story has been overdone. But, as my husband reminded me, some cliches exist for a reason: because they can be effective. By having my protagonist lose her only friend, I take away her security blanket, thus giving her even more challenges to overcome.
If my manuscript was one cliche after another, it would be time to rethink it. But I think I've put enough of my spin on things that the more common elements won't be too glaring. Hopefully the cliche police won't come to take me away.
Have you come across any cliches in your writing? When do you decide that a cliche must die and when do you spare its life?